We Help You Keep Your Cool!
We help you keep your cool!
On sweltering summer days isn't it nice to know that you have a cool retreat in your home? You'll have that peace of mind – if you have your air conditioner installed by us!
For more than 48 years, we've installed over two-thousand cooling systems in Eau Claire area homes. We are a fully insured and licensed by the state of Wisconsin.
Not only do our central air conditioning units remove the heat from your home, but they get rid of that sticky humidity too! Best of all the prices are right and the units offer excellent economy of operation.
If you're thinking about installing a new central air conditioner or replacing your old one, give us a call – we'd be happy to be of service!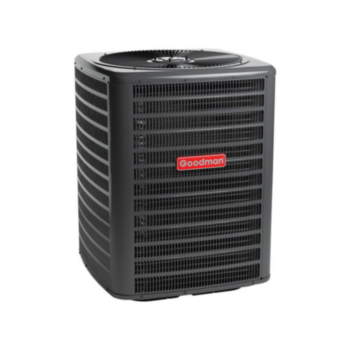 Goodman GSX 13 Air Conditioner
Brochure   Specifications   Warranty
For dependable, year-after-year cooling, the Goodman 13 SEER GSX central air conditioners offer the homeowner durable value and trouble-free performance – all at a reasonable price. This unit features an energy efficient R410-a compressor, louvered sound control top for quiet operation, and wraparound louvered grille to protect the unit from hail damage or raucous kids at play. The unit is run-tested at the factory before shipment, and is covered by a 10-year limited parts warranty.
Average Installed Price: $3250
For the fastest response, please call us at 715-835-1760.